A short while ago I started rewatching Gilmore Girls from the very beginning and I AM IN LOVE. Again. I've already seen it once in German and now I've become obsessed with it all over again - yes, it's that addictive! I found 2 tags and because I liked them so much, I combined them but only took the questions I wanted - so without further ado, here's PART ONE of the Gilmore Girls Book Tag!
1. I just got hit by a deer!
- character having the worst day ever -
That could be Calla Ann Stone from Pintip Dunn's
Forget Tomorrow
. One of her shittiest days ever was probably the one she received her so-called "memory" from her future self. It showed her that she'll kill her little sister Jessa and so the government imprisons her. Sounds like a rough day, right?
- wildly eccentric cast-
I've never seen a cast as diverse and unique as the one from Six of Crows by Leigh Bardugo where I absolutely adore each and every person. They're all so different, have their own opinion and therefore don't always agree on certain things but I think that's what makes them so likeable.
3. Kim's Antiques
- a world you'd be afraid to enter -
Any world of a YA Horror book. Most Dystopian books ... well, unless I've got an awesome crew that protects me. And I think I'd be useless in a zombie apocalype - apart from becoming the zombies' snack to cause a distraction.
- a book you're addicted to -

How am I supposed to just list one book here? There are so many I'm addicted to and in love with so I'll name a few, ha! The
Bloodlines
series by Richelle Mead, the
Throne of Glass
series by Sarah J. Maas (although I'm only at book 3), the
Harry Potter
series by J.K. Rowling and also let's not forget
ACOTAR/ACOMAF
by Sarah J. Maas again because ... duh.
5. Lorelai & Luke
- a book about best friends who fall in love -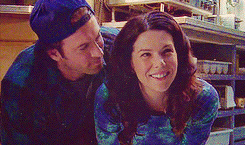 Does Aline & Mal from the Grisha trilogy count? I'm not sure anymore but I think they were best friends before they fell in love with each other? Huh. I'm not saying that I'm a huge fan of those two (my heart will always belong to someone else!) but I remember liking them at the beginning because of the things they've been through as friends and right now I can't even name anyone else.
6. Mr. Medina
- an illicit affair -
An Illicit affair? Like whaaat? I don't even know ... maybe Rose and Dimitri from the Vampire Academy series by Richelle Mead? Is that alright? Their love was forbidden so I guess that's a correct answer, haha. Other than those two I wouldn't know who to pick ...
- first book love -
This one has to be
Twilight
by Stephanie Meyer! Yes, I admit it, I was all over Twilight when it came out (in german) and devoured the book as fast as I've never read before. It's what initially got me into reading so it'll forever hold a special place in my heart.
- a comfort read -
I don't think I have one? Oops? No seriously, I barely reread any books - I did reread
Shatter Me
once but it wasn't the same -, so I don't even know. I guess for a lot of people
Harry Potter
is a comfort read so would I really need to pick one I'd choose Harry & his friends!
- a book that messed with your emotions -
Colleen Hoover does the trick for me. The (good) books I've read so far - Ugly Love, Maybe Someday & Confess - were amazing and made me cry and laugh and go "awww" more than once. I can't help it, I just adore her stories and characters. There's also
When It Rains
which was such a heartbreakingly beautiful book ... definitely worth a read!
- a book you'd throw in a lake -
Basically any bad book I've ever read? One that came to my mind immediately is
Creed
by Trisha Leaver & Lindsay Currie - it was so boring and bad and even though it had a promising premise and start I couldn't wait to finish it - one of the worst books I've read.
That was
part 1 of the Gilmore Girls Book Tag! The second one will be up in a few days so stay tuned if you're interested!