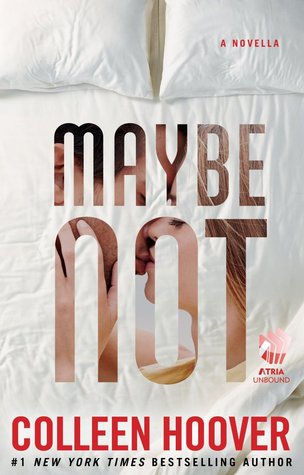 Title:
Maybe Not
Author:
Colleen Hoover
Series:
Maybe #1.5
Genre:
New Adult, Romance
Publication:
November 24th, 2014
Rating: ★★★★★
When Warren has the opportunity to live with a female roommate, he instantly agrees. It could be an exciting change.

Especially when that roommate is the cold and seemingly calculating Bridgette. Tensions run high and tempers flare as the two can hardly stand to be in the same room together. But Warren has a theory about Bridgette: anyone who can hate with that much passion should also have the capability to love with that much passion. And he wants to be the one to test this theory.

Will Bridgette find it in herself to warm her heart to Warren and finally learn to love?
Okay, first of all I'm so, so happy to be back in this "universe" with all those brilliant characters! I missed Ridge and Sydney so much and even though this novella was about Warren and Bridgette there were still some scenes with them. Once again Colleen managed to completely draw me in her story - she's amazingly talented and creates fantastic characters that you just
have to
love!
I already liked Warren in
"Maybe Someday"
but there he was the funny friend and more like a side character. He still impressed me and I was super excited to read about him and from his point of view. It also made me see him in a different light - don't get me wrong, he's still the funny guy that loves pranks - while I'm at that ... am I the only one who's reminded of Schmidt from the series New Girl?!? - but this time it's also about his feelings and thoughts. I highly enjoyed that!
Bridgette was also a lot more interesting than in the actual book because there's so much more to her than what we found out in Maybe Someday. I actually liked her a lot because she changed so much throughout the book but still managed to be the same. I hope this makes sense ... if not, READ THE NOVELLA! :D
So yeah, overall I really enjoyed this (short) novella but definitely wanted more! I think I could read 5 more books about all these characters without getting bored or anything like that. If you already read "Maybe Someday", definitely think about reading
"Maybe Not"
too because it's amazing and if you haven't read it ... just please, go to a bookstore now or order it online and read it as soon as possible. I can't even describe how much I loved it! ♥