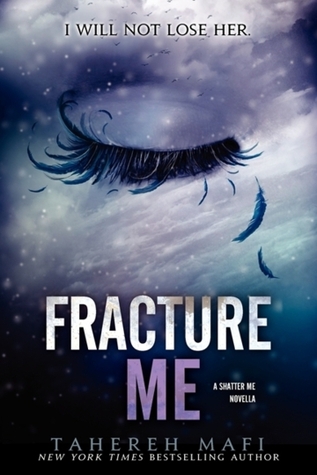 Title:
Fracture Me
Author:
Tahereh Mafi
Series:
Shatter Me #2.5
Genre:
Young Adult, Dystopia
Publication:
December 17th, 2013
Rating: ★★★☆☆
As Omega Point prepares to launch an all-out assault on The Reestablishment soldiers stationed in Sector 45, Adam's focus couldn't be further from the upcoming battle. He's reeling from his breakup with Juliette, scared for his best friend's life, and as concerned as ever for his brother James's safety. And just as Adam begins to wonder if this life is really for him, the alarms sound. It's time for war.

On the battlefield, it seems like the odds are in their favor—but taking down Warner, Adam's newly discovered half brother, won't be that easy. The Reestablishment can't tolerate a rebellion, and they'll do anything to crush the resistance . . . including killing everyone Adam has ever cared about.
I don't really know what to say about this - I thought it would be interesting to read Adam's POV and that I maybe start to like him again after "Unravel Me" but ... no.

It's not that I hate him or something like that but I'm just really confused. In the previous books he seemed so protective (over both, James AND Juliette) but now? I just don't know what happened to him or WHY the author made him like that.

As usually I liked the scenes with James a LOT but when he "forced" him to say Sir ... - seriously? After everything Adam went through and how he complained about Warner and The Reestablishment he's acting like that? It's freaking confusing.

I totally understood his reaction to "losing" James and it was really sad but well ... he's there, healthy and safe now and I- I'm so confused!!! That's obviously the only reaction you'll get from me. He doesn't want to look for Juliette? SERIOUSLY? He loves her (that's at least what he always says, I'm not so sure anymore) AND STILL DOESN'T LOOK FOR HER?!? I don't get it.

To be honest ... I wanted this novella to be about Kenji! I feel like he's so much more interesting and I wanted to know more about his background and his relationship with Castle. That would have been a lot better since this was just awful and unessecary. At least in my opinion.