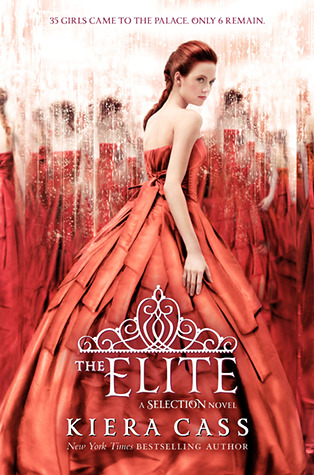 Book 2 of "The Selection" series
Title:
The Elite
Author:
Kiera Cass
Series:
The Selection #2
Genre:
Young Adult, Dystopia, Romance
Publication:
April 23rd, 2013
Rating: ★★★★☆
The Selection began with thirty-five girls. Now, with the group narrowed down to the Elite, the competition to win Prince Maxon's heart is fiercer than ever--and America is still struggling to decide where her own heart truly lies. Is it with Maxon, who could make her life a fairy tale? Or with her first love, Aspen, who she always thought was the one?

America is desperate for more time. But the rest of the Elite know exactly what they want--and America's chance to choose is about to slip away.
I was actually really excited to finally continue with this series and that I drew "Read a book with the color RED on its cover" for my
TBR Jar Challenge
was just great! I had the perfect "excuse" to read this and now that I'm finished I seriously don't know what to say. This book was one big, fat, confusing
WHAT THE HELL
to me. Throughout the book I was so confused and frustrated and I constantly wanted to smash the book against my wall or scream because I didn't know what else to feel. That might sound stupid but I haven't read anything like this in a while that confused me so much. *long sigh*
Okay, let's start this with
America
. While I obviously liked her in the first book (I just reread my review of
"The Selection"
) I almost couldn't stand her in this book. She annoyed me and frustrated me and I was as confused as she was. I described her as hilarious, sarcastic, brave and admirable but I'm not so sure anymore. It's like I read about a completely different character. She was whiny, confused, frustrated, jealous, angry and sometimes really annoying. I especially wanted to slap her because of this stupid back and forth between Aspen and Maxon. She can't make up her mind, okay, I get it. She loves two boys and they love/like her but it didn't make sense. Her thoughts were so confusing and illogical - one moment she agrees with what Aspen says, the next moment she's of the same opinion as Maxon. I ... UGHHHH.
Some of you might know that I was Team
Maxon
right from the beginning. I just fell for him and loved all the scenes between him and America. Well, it didn't change. I still prefer him over Aspen because I think he's more interesting. I don't even know why. And yet he dissapointed me a bit. There were so many moments where I just sat and shook my head because I couldn't believe how weird all this was. Most of the time I understood him and why he acted the way he did but still, I wanted his reactions to be differently.
I won't say too much about
Aspen
because I simply don't like him. Again I don't really know why (maybe because I was Team Maxon right from the beginning) but whenever he entered a scene and made an appearance my mood dropped and I wanted him to be gone. He doesn't even deserve my dislike because he did nothing to provoke this but I couldn't stop groaning whenever he interacted with America or she thought about him. I'm weird, I know.
As for the story I don't know what to tell you about it. It's obviously about the selection and finding a girl for Maxon but I'm curious about all those rebel attacks. They just don't make sense, they seem so random and Kiera doesn't really explain anything about why it's happening or what they're looking for ... it's all so confusing I want to cry, seriously.
I still rated the book with 4 stars because I highly enjoyed it. Unbelievable, right? It's addictive and you want to know what happens next and mostly I didn't even want to put the book down. I guess I have to continue with
"The One"
right away to find some answers (please give me answers!) and hopefully America finally makes a decision ... and she better chooses Maxon. But yeah, overall I really enjoyed the book despite me being constantly confused and frustrated. Let's hope, for my sake, that book 3 will be "better".