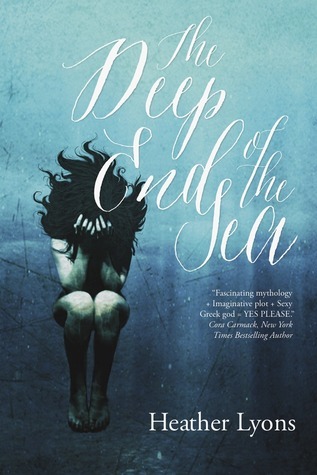 Title:
The Deep End of the Sea
Author:
Heather Lyons
Series:
Stand-alone
Genre:
Fantasy, Mythology, Romance
Publication:
February 5th, 2014
Rating:
★★★★☆
What if all the legends you've learned were wrong?

Brutally attacked by one god and unfairly cursed by another she faithfully served, Medusa has spent the last two thousand years living out her punishment on an enchanted isle in the Aegean Sea. A far cry from the monster legends depict, she's spent her time educating herself, gardening, and desperately trying to frighten away adventure seekers who occasionally end up, much to her dismay, as statues when they manage to catch her off guard. As time marches on without her, Medusa wishes for nothing more than to be given a second chance at a life stolen away at far too young an age.

But then comes a day when Hermes, one of the few friends she still has and the only deity she trusts, petitions the rest of the gods and goddesses to reverse the curse. Thus begins a journey toward healing and redemption, of reclaiming a life after tragedy, and of just how powerful friendship and love can be—because sometimes, you have to sink in the deep end of the sea before you can rise back up again.
It's the second book I'm reading by Heather Lyons and I enjoyed it as much as the first one! While
The Collectors' Society
is a modern retelling of Alice in Wonderland,
The Deep End of the Sea
is about Greek gods and the "monster" Medusa.
"I am a monster. The worst kind of monster. The kind that people have told stories about for thousands of years. The kind that daredevils seek out, even though many believe I'm nothing more than a myth."
My favorite parts of this book were definitely the beginning and the end. To read about Medusa and how she became a hideous creature that could kill with only its eyes was fascinating! She was one of Athena's handmaiden but after Poseidon, who she considered a friend, raped her the goddess of wisdom cursed her and sent her to an island she couldn't escape from. It's just ... she's not really a monster. She's quite the opposite - kind, gentle, loving, strong-willed but because of her past also unsure of herself and full of remorse. In 2000 years she killed thirty-six people by accident. She never meant to hurt anyone ...
I love how Heather Lyons breathes life into her characters and gives them each a different personality. It's not only Medusa but also Hades, Persephone and all the others. Every god/goddess is unique and highly entertaining but one stood out because ... oh well, he's swoon-worthy and absolutely gorgeous - Hermes. He's loyal, protective, caring and so, so charming. He simply melts my heart ... just thinking about him makes me blush. All those beautiful words he said to Dusa. *sigh*
"When we fall in love, it's forever love. Even if you decide one day that you do not love me anymore, I will still always feel this way for you."
I think I've never read a book about greek mythology and maybe I expected it to be a little more detailed and not so modern but it definitely was interesting. The modern twist was quite refreshing although at times it seemed a bit comical but that never disturbed me. Even if there wouldn't have been greek elements it still would have been a really, really good contemporary romance.
Overall it was an amazing book! Heather Lyons didn't disappoint me, her characters are beautifully written and there were lots of sweet and funny moments that will warm your heart! If you enjoy great characters, a bit of greek mythology - but don't take it too seriously - and an awesome ending I'd definitely recommend this book to you!