Waiting on Wednesday is a weekly meme, hosted by Breaking the Spine, that spotlights upcoming releases that booklovers can't wait to get their hands on!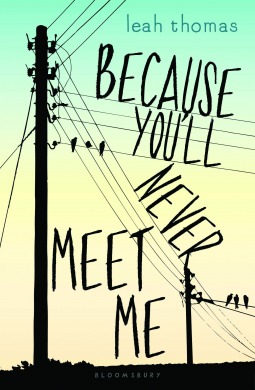 Title:
Because You'll Never Meet Me
Author:
Leah Thomas
Genre:
Contemporary, Young Adult
Expected Publication Date:
2015
Ollie and Moritz are best friends, but they can never meet. Ollie is allergic to electricity. Contact with it causes debilitating seizures. Moritz's weak heart is kept pumping by an electronic pacemaker. If they ever did meet, Ollie would seize. But Moritz would die without his pacemaker. Both hermits from society, the boys develop a fierce bond through letters that become a lifeline during dark times—as Ollie loses his only friend, Liz, to the normalcy of high school and Moritz deals with a bully set on destroying him.


Why am I waiting?
Another really moving story, I guess. The blurb intrigued me and I just want to read this so badly! That there's not even a specific publication date freaks me out because I want it - I think, or hope, it'll be published in January, that wouldn't be too long away ...