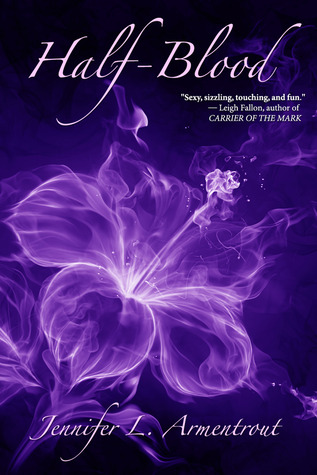 Title:
Half-Blood
Author:
Jennifer L. Armentrout
Series:
Covenant #1
Genre:
Young Adult, Paranormal
Publication:
September 19th, 2011
Rating: ★★★★☆
The Hematoi descend from the unions of gods and mortals, and the children of two Hematoi pure bloods have godlike powers. Children of Hematoi and mortals--well, not so much. Half-bloods only have two options: become trained Sentinels who hunt and kill daimons or become servants in the homes of the pures. Seventeen-year-old Alexandria would rather risk her life fighting than waste it scrubbing toilets, but she may end up slumming it anyway. There are several rules that students at the Covenant must follow. Alex has problems with them all, but especially rule #1: Relationships between pures and halfs are forbidden. Unfortunately, she's crushing hard on the totally hot pure-blood Aiden. But falling for Aiden isn't her biggest problem--staying alive long enough to graduate the Covenant and become a Sentinel is. If she fails in her duty, she faces a future worse than death or slavery: being turned into a daimon, and being hunted by Aiden. And that would kind of suck.
I had a day to think about everything now and although it reminded me a lot of
Vampire Academy
by Richelle Mead, I enjoyed Half-Blood! It's awesome! But because of the similarity to VA, I just had to check which one was released first and well, I was really surprised. Half-Blood was released in 2011 while VA came out in 2007. Not good. I still have hope for it to become unique and change everything. It's not really bothering me a lot because I loved Vampire Academy but I couldn't stop comparing Aiden with Dimitri, for example. Alex is a lot like Rose and Seth could be the rebellious Adrian Ivashkov. But still I fell in love with each one of them. Typically me.
Especially Alexandria, or short
Alex
, is badass! She's independant, strong, brave and even a bit crazy. It's a perfect mixture, seriously. I liked her! She kicked some ass, got emotional and unsure and reacted like a "normal" 17-year old girl. Her stubborness, her sarcastic and funny comments and the fact that she's willing to do something instead of simply sitting around made me like her even more.
And then there's also
Aiden
. Oh man. I knew I'd fall in love with him the moment he was introduced to the story. I totally understand why Alex has a thing for him. He's handsome, strong and intelligent ... he's patient and gentle when it comes to her. He believes in her. *sigh*
But I think we should also talk about
Seth
.
Damn
. He's a mystery. And I want to solve it. So badly. He's ... different to everyone else and I guess that's also why he's so confident. He's powerful and oh, so strong. And don't forget how hot he is. Definitely an eyecatcher! But there's also this other side of him ... the one we got a teeny tiny glance of it towards the end of the book! I remember that scene so perfectly, oh my god. I loved it so much!
So yeah, even though it's a lot like VA when it comes to characters and the storyline it's still something different and I hope by the second or at least the third book it'll be really unique and totally captivating. No doubt about JLA's ability to write and create - she's amazingly talented and so far I loved everything I've read by her! :)