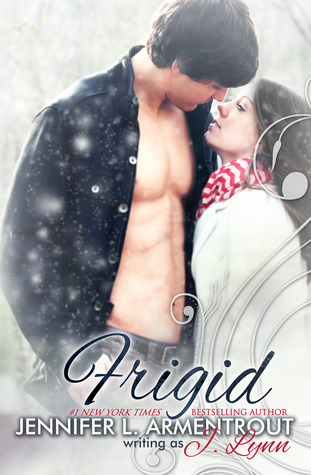 Title:
Frigid
Author:
J. Lynn / Jennifer L. Armentrout
Series:
Frigid #1
Genre:
New Adult, Romance, Contemporary
Publication:
July 15th, 2013
Rating: ★★★☆☆ +0.5
For twenty-one-year-old Sydney, being in love with Kyler isn't anything new. They'd been best friends ever since he pushed her down on the playground and she made him eat a mud pie. Somewhere over the years, she fell for him and fell hard. The big problem with that? Kyler puts the 'man' in man-whore. He's never stayed with a girl longer than a few nights, and with it being their last year in college, Syd doesn't want to risk their friendship by declaring her love.

Kyler has always put Syd on a pedestal that was too high for him to reach. To him, she's perfect and she's everything. But the feelings he has for her, he's always hidden away or focused on any other female. After all, Kyler will always be the poor boy from the wrong side of tracks, and Syd will always be the one girl he can never have.

But when they're stranded together at a posh ski resort due to a massive Nor'easter, there's nothing stopping their red-hot feelings for each other from coming to the surface. Can their friendship survive the attraction? Better yet, can they survive at all? Because as the snow falls, someone is stalking them, and this ski trip may be a life-changer in more ways than one.
First of all, I was SO excited to read this book and when I finally could I immediately grabbed it and went straight to bed to start reading it! I read it in one day by the way - I didn't even want to put it down! I just couldn't!

Gosh, Jennifer L. Armentrout/J. Lynn never disappoints me! I'm loving the Lux series and Wait for You was equally amazing, so I figured "Frigid" would be another awesome book! The story is about Sydney and Kyler - best friends since they can remember but secretly in love with each other. *sigh*

I was hooked from the very first page! Sydney was a likeable character - sometimes a little ... I don't want to say whiny but she thought a lot about every tiny little bit - I think I liked her so much because sometimes I'm like her ... constantly worried about what others think. That made her vivid and real.
"I will never regret being with you, Syd. Never. And I wish I could go back and relive those hours. I wish I could go back in time, and instead of hooking up with some chick, I'd man up and tell you how I really felt for you, how I've always felt for you."

Kyler was AMAZING. I understand why Sydney fell in love with him! He's a player, yes. He likes to "play" with lots of girls, yes. But when it comes to Sydney he was always different ... that's just UGH! I loved his cocky side but also - especially to the end - when he was being vulnerable and insecure. Gosh, I wouldn't mind to have someone like Kyler in my life, definitely not! :D
I'm glad JLA took her time with everything ... nothing seemed too rushed or unbelievable. Actually I sat there and was thinking:
OH MY GOD! FINALLY DO IT, UGH! OH JUST SAY IT! ♥
The ending was beyond perfection! I couldn't have imagined something more beautiful! I really enjoyed and loved it a lot! It's a charming, funny and extremely sweet book with some really, really hot moments! Definitely worth a read! ;)