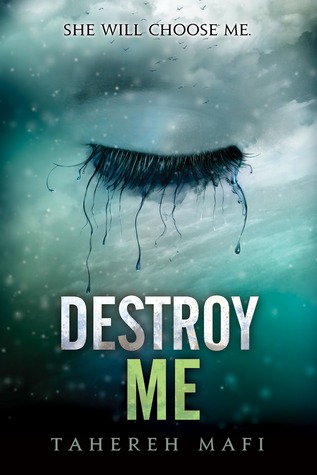 Title:
Destroy Me
Author:
Tahereh Mafi
Series:
Shatter Me #1.5
Genre:
Young Adult, Dystopia
Publication:
October 2nd, 2012
Rating: ★★★★★
Back at the base and recovering from his near-fatal wound, Warner must do everything in his power to keep his soldiers in check and suppress any mention of a rebellion in the sector. Still as obsessed with Juliette as ever, his first priority is to find her, bring her back, and dispose of Adam and Kenji, the two traitors who helped her escape. But when Warner's father, The Supreme Commander of The Reestablishment, arrives to correct his son's mistakes, it's clear that he has much different plans for Juliette. Plans Warner simply cannot allow.
Okay, focus. What can I say about this little novella? I was so excited to read Warner's POV and I loved it so, so, sooo much - he might already be my favorite character, ugh god.

Seriously, he's so much more than the "villain" in this series and I'm glad we found out more about his personality. There were scenes that almost killed me ... I'm just saying: DOG. It was too cute to handle!
"I've come to believe that the most dangerous man in the world is the one who feels no remorse. The one who never apologizes and therefore seeks no forgiveness. Because in the end it is our emotions that make us week, not our actions."
I loved absolutely EVERYTHING about this book! Especially the journal and how he felt reading Juliette's words, thoughts and feelings - the scenes with his father (he's a jerk btw!) and with Delalieu and the coffee were absolutely amazing and/or terrifying but so well described and written. In general I think the world Tahereh Mafi built is extremely brilliant. I never had any problems picturing something or someone.
"People seldom realize that they tell lies with their lips and truths with their eyes all the time."
It was so good to see another side of Warner and I think that this little novella is an absolute must-read to completely understand him in the next books. There's so much to explain and to understand and without that book you wouldn't even get half of the things he says/does in Unravel Me. I just can't wait to explore his personality more and more! He's an awesome character and I love him to pieces!