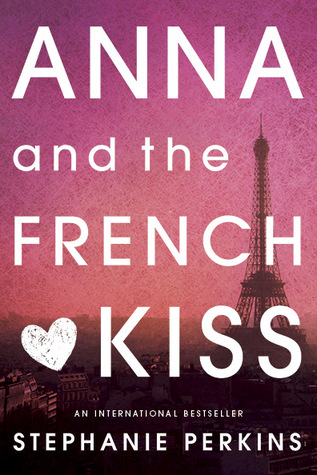 Title:
Anna and the French Kiss
Author:
Stephanie Perkins
Series:
Anna and the French Kiss #1
Genre:
Young Adult, Romance, Contemporary
Publication:
July 16th, 2013
Rating: ★★★★★
Anna is happy in Atlanta. She has a loyal best friend and a crush on her coworker at the movie theater, who is just starting to return her affection. So she's less than thrilled when her father decides to send her to a boarding school in Paris for her senior year.

But despite not speaking a word of French, Anna meets some cool new people, including the handsome Étienne St. Clair, who quickly becomes her best friend. Unfortunately, he's taken —and Anna might be, too. Will a year of romantic near misses end with the French kiss she's waiting for?
WHAT A GREAT BOOK! I don't understand how I could wait so long until I finally read it! It's incredibly beautiful and so realistic and Stephanie Perkins might have become one of my favorite authors now. She's brilliant and I really enjoyed her writing style ... it's simple and easy and just makes you feel good.
Anna Oliphant is super likeable and I could relate to her immediately! She writes reviews of movies and shows real human emotions ... I mean, she's scared, she's jealous and doesn't know what to do or how to react, she's happy and angry and everything else. And well, Étienne St. Clair is one reason why she feels all that. I totally understand, I felt it too. St. Clair is just amazing. He's so imperfect and has lots of flaws that almost make him perfect again. He bites his nails when he's nervous or happy, he's short but has gorgeous hair and a magnificent smile. He's swoon-worthy, yes.
"I love you as certain dark things are loved, secretly, between the shadow and the soul."
I loved that it wasn't the typical "Insta-love" you get nowadays. Nope, Anna & St. Clair's relationship grew continuously over the whole book and started off with an amazing friendship. I liked them together and you could clearly see that there was a certain attraction between them. They just made me really happy when they were together. *sigh*
All the other characters were brilliant too! I loved how everyone was written so well and had different character traits and flaws. They were all unique and I already can't wait to meet some of them again.
So yes, I absolutely loved it! It's a quick and easy read with lots of cute moments, amazing characters and a fantastic ending. I would totally recommend this to everyone who enjoys contemporary and romances. It's totally worth a read!