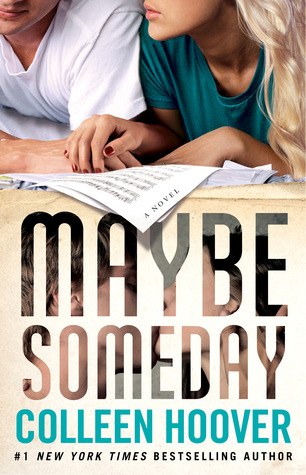 Title:
Maybe Someday
Author:
Colleen Hoover
Series:
Maybe #1
Genre:
New Adult, Romance
Publication:
March 18th, 2014
Rating:
★★★★★
At twenty-two years old, Sydney has a great life: She's in college, working a steady job, in love with her wonderful boyfriend, Hunter, and rooming with her best friend, Tori. But everything changes when she discovers Hunter's cheating on her--and she is left trying to decide what to do next.

Sydney becomes captivated by Ridge, her mysterious neighbor. She can't take her eyes off him or stop listening to the passionate way he plays his guitar every evening out on his balcony. And there's something about Sydney that Ridge can't ignore, either. When their inevitable encounter happens, they soon find themselves needing each other in more ways than one...
I think I just died. I shed so many tears during this read and it's still not enough. I could cry and hug this book for the rest of my life, it was so beautiful. I expected nothing, since it was my first book of Colleen Hoover and yes, of course, I heard she's amazing but damnit. What I read and felt the last few days was more than amazing. It was brilliant, heartbreakingly beautiful and simply perfect. I loved every little bit about it ... I just can't. It's too much to handle, oh my god.
Colleen's writing is absolutely stunning and with her simple but effective words, she completely captured me. There was no way I could not NOT like this book! The story is so true and I just fell in love with it. I fell in love with it before it even really began. The characters are one of the most amazing characters I've ever read about. They felt so realistic because they were not perfect. They had flaws and insecurities but that made me only love them more. It was as if I really knew them, as if they were my friends and I tried desperately to help them make the right choices ... huge compliment, seriously.
"How ever, I've learned that the heart can't be told when and who and how it should love. The heart does whatever the hell it wants to do. The only thing we can control is whether we give our lives and our minds the chance to catch up to our hearts."
Sydney Blake
is such an honest and caring person. She had to go through a lot and face some serious problems but she stayed true to herself. She knew what was right and wrong and even though at times it was hard to tell the difference she always did what was necessary. I loved her a lot! She's so admirable and likeable and I wish I would be more like her because I think she has an awesome personality. But the same goes for
Ridge Lawson
. I have to admit that I also fell in love with him but unlike Sydney I didn't try to fight my feelings for him. I just knew I couldn't fight them and would only lose ... well and I was right, obviously. He's stunning. He's so much more than I expected at first (in general the whole story!) and that only made me love him more. He's loyal and honest and he cares so much for the ones he loves ... my heart ached for him whenever something was not right. He's probably everything Sydney ever wanted and I'm so glad about that because I think they're just perfect.
How they complemented and encouraged each other to do things they never dared to do before. They challenged each other and out of a friendship grew something so strong, so amazingly beautiful ... I would want that too. All the weird situations, the tears and the heartache - everything was worth it in the end because they found something that you can't just throw away that easily. OH MY GOD, I COULD CRY AGAIN! It's so beautiful!
I smell your perfume on my bed




Thoughts of you invade my head




Truths are written, never said ...
The story, the lyrics, the songs to them ... it's something I haven't experienced like that before ... I was so consumed by the whole concept and the "world" Colleen built with her unique characters. I was astonished. Totally. And I didn't expect it to get SO emotional. Seriously, it was a rollercoaster of feelings. Ups and downs, laughing and crying. I'm still speechless, if I'm being honest. And those last few pages ... holy shit. Sex scenes are mostly hot but this one? It was perfection. I think I've never read anything so beautiful. Very well done, Colleen!
I'm definitely recommending this to everyone who's a sucker for books that shatter your heart into tiny little pieces and then, slowly, putting it back together again. It's funny, it's romantic and sweet, it get's serious and sad but in the end you'll love it! I assure you, you won't regret reading it!