"Get To Know The Author"
is a
bi-weekly
meme, where I talk about my favorite authors or some that deserve a little bit more attention! After all, they're the ones who create all those amazing characters and unique worlds!
Original idea from Melissa @ In A Bookish World.
______________________________________________________
Today's author is someone we all know. At least lots of us. One of his books was being turned into a movie not so long ago and 2 others are in progress. Both the movie and the book were a huge success and got a lot of hype, of course I'm talking about
"The Fault in Our Stars"
and its author Mr.
John Green
!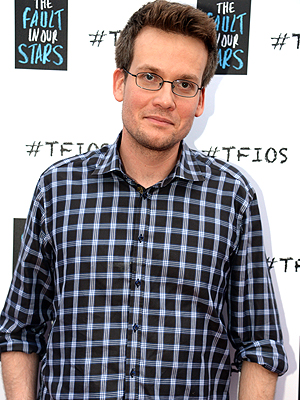 John Green
About John Green
John Green is the New York Times bestselling author of
Looking for Alaska
,
An Abundance of Katherines
,
Paper Towns
, and
The Fault in Our Stars
. He is also the coauthor, with David Levithan, of
Will Grayson, Will Grayson
. He was 2006 recipient of the Michael L. Printz Award, a 2009 Edgar Award winner, and has twice been a finalist for the Los Angeles Times Book Prize. His books have been published in more than a dozen languages.
In 2007, Green and his brother Hank ceased textual communication and began to talk primarily through videoblogs posted to YouTube. The videos spawned a community of people called nerdfighters who fight for intellectualism and to decrease the overall worldwide level of suck. (Decreasing suck takes many forms: Nerdfighters have raised hundreds of thousands of dollars to fight poverty in the developing world; they also planted thousands of trees around the world in May of 2010 to celebrate Hank's 30th birthday.) Although they have long since resumed textual communication, John and Hank continue to upload two videos a week to their YouTube channel, vlogbrothers. Their videos have been viewed more than 200 million times, and their channel is one of the most popular in the history of online video.
Books by the author
The Fault In Our Stars.
Despite the tumor-shrinking medical miracle that has bought her a few years, Hazel has never been anything but terminal, her final chapter inscribed upon diagnosis. But when a gorgeous plot twist named Augustus Waters suddenly appears at Cancer Kid Support Group, Hazel's story is about to be completely rewritten.
Paper Towns.
Quentin Jacobsen has spent a lifetime loving the magnificently adventurous Margo Roth Spiegelman from afar. So when she cracks open a window and climbs into his life—dressed like a ninja and summoning him for an ingenious campaign of revenge—he follows. After their all-nighter ends, and a new day breaks, Q arrives at school to discover that Margo, always an enigma, has now become a mystery. But Q soon learns that there are clues—and they're for him. Urged down a disconnected path, the closer he gets, the less Q sees the girl he thought he knew.
Looking For Alaska.
Before: Miles "Pudge" Halter's whole existence has been one big nonevent, and his obsession with famous last words has only made him crave the "Great Perhaps" (François Rabelais, poet) even more. He heads off to the sometimes crazy, possibly unstable, and anything-but-boring world of Culver Creek Boarding School, and his life becomes the opposite of safe. Because down the hall is Alaska Young. The gorgeous, clever, funny, sexy, self-destructive, screwed-up, and utterly fascinating Alaska Young, who is an event unto herself. She pulls Pudge into her world, launches him into the Great Perhaps, and steals his heart. After: Nothing is ever the same.
More books by John Green:
An Abundance of Katherines

Will Grayson, Will Grayson

Let it Snow
____________________________________________________________
John Green and Youtube-star Tyler Oakley
Social Media
With over 3 Million Followers on Twitter, John Green is probably one of the most popular authors on this social media platform. He's very active and tweets lots of different things about his books, the movie adaptations, new projects but also other funny stuff!
He's on Facebook and has a Youtube channel - vlogbrothers - which he shares with his brother Hank Green. Both of them upload videos that are funny but also very interesting and informative.
You can also follow him on Tumblr, view his awesome pictures on Instagram or read more about him at www.johngreenbooks.com.