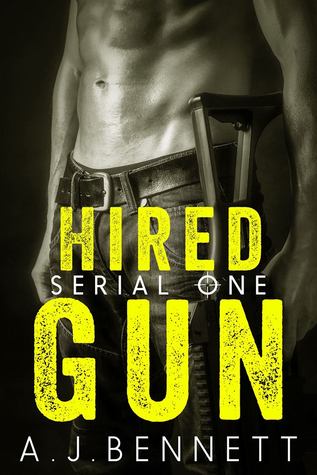 Title:
Hired Gun
Author:
A.J. Bennett
Series:
Hired Gun #1
Genre:
Serial, Paranormal, Romance, Adult
Publication:
Septemer 15th, 2014
Rating: ★★★☆☆ +0.5
Tall, dark, and sexy as hell, Thorne Hollow knows the power he holds over the opposite sex and how to use it.

Cast out by the gods thousands of years ago, he roams the earth working as an assassin for The Sicarii, a secret society who protects humans from all of the things that go bump in the night.

Long ago, Thorne made the mistake of falling in love with a human, and her death stripped him bare. Now he is destined to live a life of solitude. One night stands are his way of life ... until he meets a mysterious woman whose intriguing power compels him to uncover more about her and the strange magic she wields.
In "Hired Gun" by A.J. Bennett, the first book of a serial, we're introduced to Thorne Hollow, half human and half god. He's an assassin, working for The Sicarii, a secret society that protects the innocent from both, supernatural and humans.
I have to say it was a super quick read and personally I think it's really difficult to rate a book when it's so short. It only had around 100 pages and in my opinion it was way too short! That's not always a bad thing and I know there'll be more parts to the serial but the story barely even started and you're already finished ... but at least it leaves you wanting more!
Thorne is ... likeable but definitely a man-whore! He's handsome, strong, very manly and confident and he knows how women react to him and absolutely loves it. His powers are still confusing me, mostly because I don't know what exactly he's capable of but together with Benny, his best friend, they're unstoppable and a real dream team!
The story is more like an introduction to the characters and to get to know the world they live in. We also find out a little bit about Thorne's past and I would love to explore it further!
So what's my conclusion? "Hired Gun" is a short but promising New Adult serial novel with interesting supernatural characters and great potential. I definitely want to check out the other parts once they're out and can't wait to meet Thorne again! :)