"Friday Finds" is a weekly meme, hosted by Should Be Reading, where you share the book titles you discovered or heard about during the past week. These can be books you were told about, books you discovered while browsing goodreads/blogs/bookstores online, or books that you actually purchased.
~ The "Recommendation Friday" will still be posted, but not every week and probably only if I really liked a book and want to recommend it to you! ~
My week's Finds are ...
1. Messenger of Fear by Michael Grant
I stumbled upon it via Epic Reads' awesome
website
(seriously, you have to check them out if you don't know them already) and I have to say, it sounds amazing! I was bored and made a little
quiz
on their site - Which YA Horror Novel Are You? - and got Goosebumps btw but the point is, they created this quiz in honor of Michael Grant's new book and I'm like: "Okay, I need to read this!" because it sounds freaking awesome!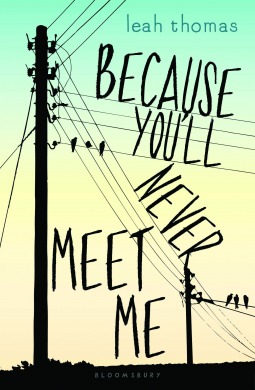 2. Because You'll Never Meet Me by Leah Thomas
This one will only come out sometime in 2015, which is still far away. I saw it on Netgalley and fell in love with the gorgeous cover. But the story seems also quite interesting and probably also heartbreakingly sweet. It's about 2 boys, Ollie and Moritz, who are best friends but can never meet.
Ollie is allergic to electricity and contact with it causes debilitating seizures. Moritz's weak heart is kept pumping by an electronic pacemaker. If they ever did meet, Ollie would seize but Moritz would die without his pacemaker. You see the problem? If this is only as good as I imagine it, I'm sure I will love it to pieces!
3. The One and Only Ivan by Katherine Applegate
The booktuber April Brooks talked about it in her August Wrap Up and it sounded amazing, so I had to add it to my TBR list. It's about a gorilla, Ivan, that thinks about tv shows, art and his other animal friends, like the elderly elephant Stella and the stray dog Bob instead of missing his life in the jungle. It's a story about friendship, art and hope and I just want to read it so badly. Books and movies with animals are always so emotional and ugh, April said she "sobbed hysterically", so I know I will do too. I already can't wait, haha!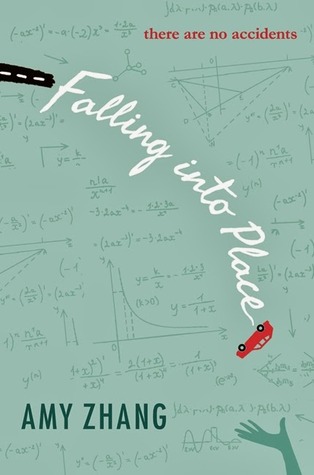 4. Falling into Place by Amy Zhang
Another booktuber-find but I forgot who talked about this beauty. I don't know much about it, just that it's about suicide and deals with a lot of different topics. I only read the blurb on Goodreads but this little passage -
On the day Liz Emerson tries to die, they had reviewed Newton's laws of motion in physics class. Then, after school, she put them into practice by running her Mercedes off the road. - already made me curious! And the cover, oh my! The cover is so simple but looks absolutely gorgeous!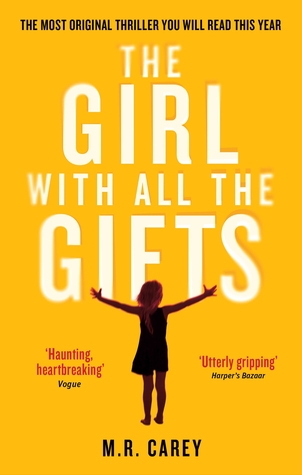 5. The Girl With All The Gifts by M.R. Carey
Again, a book I don't know what to expect from but it mostly has high ratings on Goodreads and the blurb sounds interesting enough for me to put it onto my TBR list. Oh and I just saw, lots of people listed it as a horror book and with zombies? Really? Is it about zombies?! That would be freaking amazing, I love zombie books/movies/tv shows! Hells yeah! I need to buy this!
6. Unrest by Michelle Harrison
Fantasy/Paranormal/Ghosts/Horror - I guess I would enjoy this a lot! It's about a seventeen year old boy, Elliot, who almost died in an accident and hasn't slept properly for months. Sometimes he's half awake, paralysed, while shadowy figues move around him and o
ther times he is the one moving around, while his body lies asleep on the bed. But
one night, during an out of body experience, Elliott returns to bed to find his body gone. Something is occupying it, something dead that wants to live again . . . look me in the eye and tell me that this doesn't sound creepy at all! In fact, now that October and Halloween come closer every day I want to read this as soon as possible ... damn book-buying-ban, ah.
7. Schizo by Nic Sheff
This book is about
Miles—a teen recovering from a schizophrenic breakdown who believes he is getting better . . . when in reality he is growing worse.
I haven't read anything about schizophrenia before but the cover is intriguing and the blurb sounds also quite interesting so I thought I should give it a try.
What are your "Friday Finds"? Have you read any of the books I listed above? What did you think of them? Let me know!